www.derby-signalling.org.uk
HISTORY OF MECHANICAL RAILWAY SIGNALLING IN THE DERBY AREA
Research into the mechanical signalling which once existed on the railways around Derby, Burton on Trent and Uttoxeter
Welcome to the Derby Signalling web site. This is a place for me to share the results of several years of research into the history of mechanical signalling, centred on the railways now controlled by Derby Power Signalbox. I hope you find some useful and interesting material here. Even if railways in general, or signalling in particular, are not your "thing", there is plenty of local interest relating to the Derby area.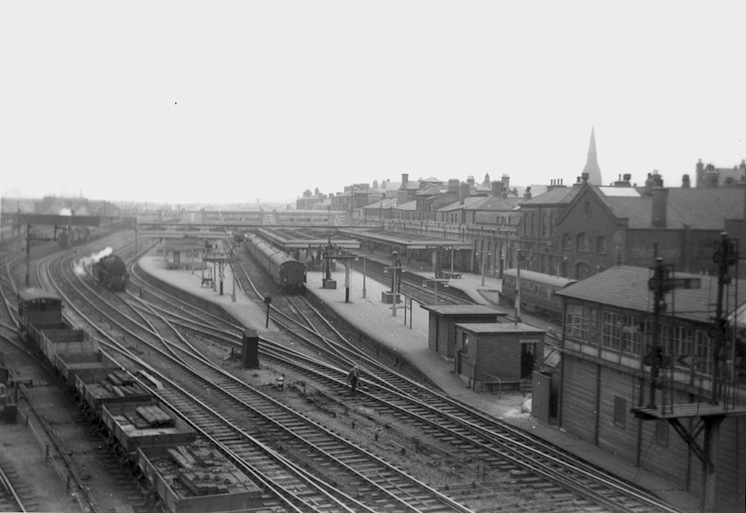 Details of the Derby Area Signalling Project and research resources
...Note these two pages are a still under test and may be subject to periodic change.
Spondon Resignalling in 1918
To coincide with the long overdue refresh of this page, I am sharing these two plans held at the Cambridge University Map Library as part of a collection of Midland Railway & LMS Engineers Department papers dating from c.1913 - c.1930.
These examples are the Engineers Department plans for the brick bases constructed for the new Spondon Station and Spondon Junction. These new (and in the case of the Station box especially, greatly expanded) boxes were required to control a new connection for the British Cellulose & Chemical Company's Siding. The drawings bear the signature of W.C.Acfield and pencilled notes record the dates various stages of the building were finished.
The collection at Cambridge is extremely useful and a catalogue for it can be consulted here. Details of how to visit this very helpful establishment are given here.
London Road Junction interior views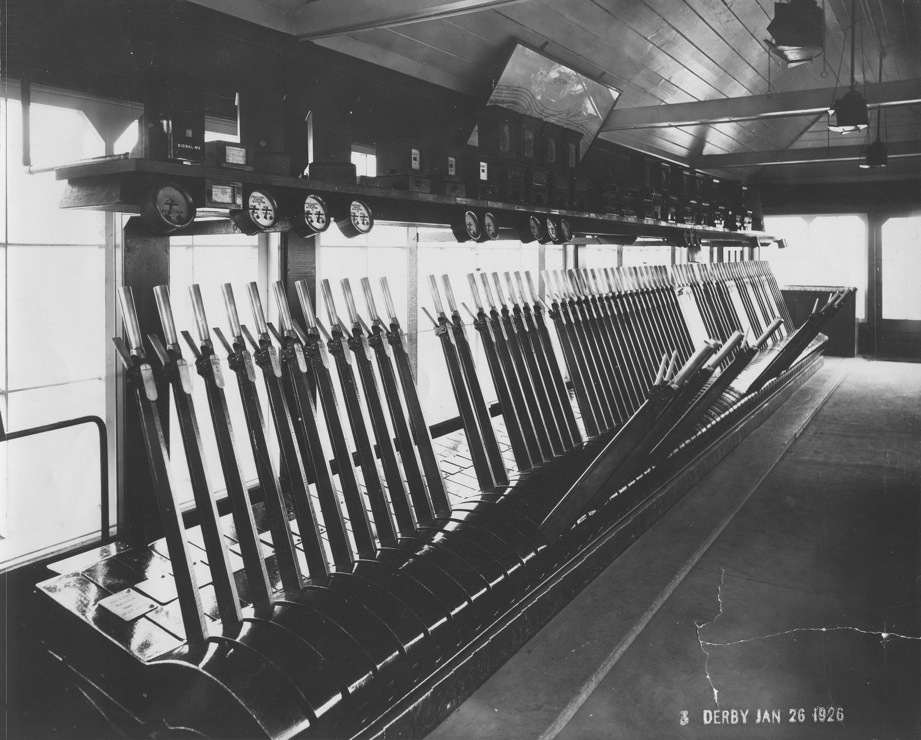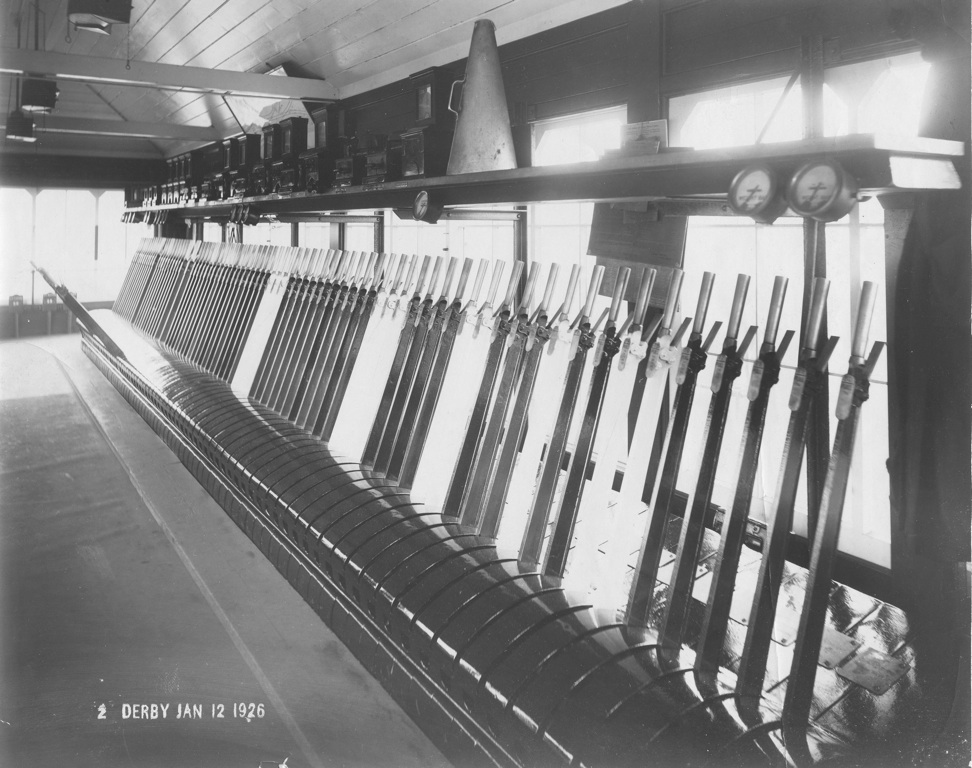 Chellaston Junction in colour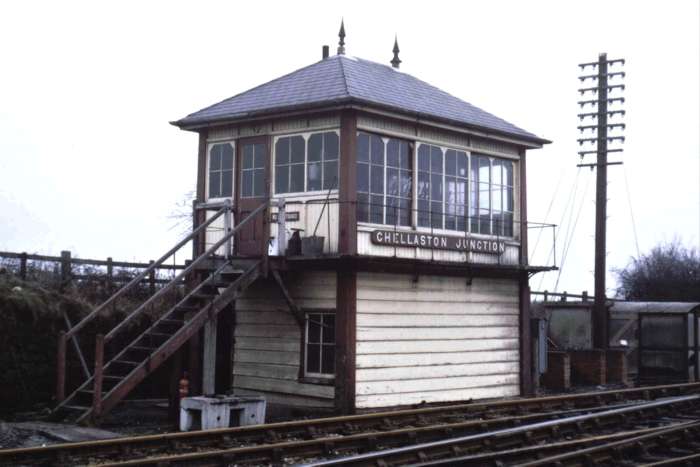 A pair of diagrams illustrating two large signal gantries which formerly stood at the north end of Derby Station



Derby Station North Junction
(55kb .pdf):
Photo by M.A.King 22MAR1969






Derby Junction
(40kb .pdf):
Photo by M.A.King 04APR1969



Alrewas
A major fire occurred in Alrewas signal box on 23rd October 2005. This is a LNW Type 4 structure that fringes to Derby Powerbox on the South Staffordshire line. Details of the fire and its consequences can be found here
Marchington Station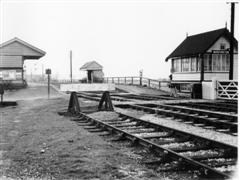 Maxwell Craven very kindly mentioned this site in his Derbeian's Diary column in the Derby Evening Telegraph on 21st October 2004. His article related to Marchington Station and if you want to find out a little more about this wayside North Staffordshire Railway station and the staff who worked there, you will find details of a minor mishap which occurred in 1882 on the Accidents page of this site.
A larger version of this view of a North Staffordshire Railway Type 2 signal box at Marchington can be obtained by clicking on the thumbnail to the right.
A signal unique to Derby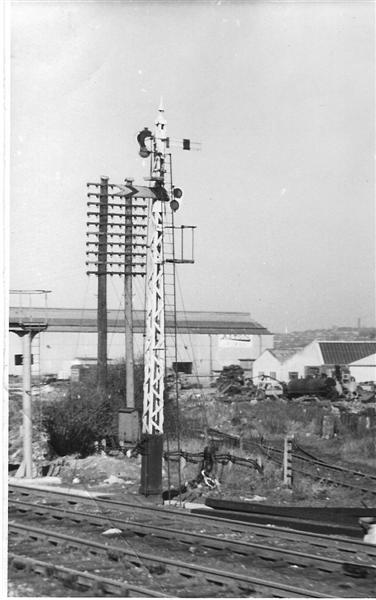 This photograph recently came to my notice. It shows one of a number of experiments the Midland Railway carried out close to the signal works in an attempt to economise in materials for their signals. This particular experiment involves a timber lattice construction and was used on the goods lines at Derby North Junction. The home signal, worked by lever 44 in Derby North box, protected the Derby Corporation Ground Frame on the Up Goods, whilst the distant arm is St. Mary's Junction Down Distant.
The photograph has been taken from the Up platform of Nottingham Road station and the yet-to-be-commissioned DY155 is seen in the background.
The historical significance of the signal post was recognised when it was abolished in 1969, and it was secured for preservation. Though now unfortunately snapped in two, the post is inside the Butterley organisation's museum at Swanwick Junction.
At least one experimental Midland Railway signal post still existed into the Network Rail era: Fiskerton Station's Down Home (FS5) was a round wooden post - for many years a unique survivor, it was felled c.2007. Given that the Up Distant is still a Midland Square Post (a lot more common at one time, but now almost all gone), Fiskerton is still quite an historic site!
Focus on.....
A series of studies of the signalling at locations within the Derby area. The objective of the work is to concentrate on the equipment, the men and the work done in the box, whilst giving an idea of the context of the surrounding railway.
A signalling timeline for the Wirksworth Branch
An article which details of the many changes in signalling methods over the years on this unusual Midland Railway branch. This includes a photograph of the box diagram removed from Duffield Junction on closure in 1969 (305kb).
Other Articles about Derby area signalling
Resources relating to signalling in other areas
As well as the Derby area, my other strong signalling interest is the Nottingham - Lincoln line and the Newark area.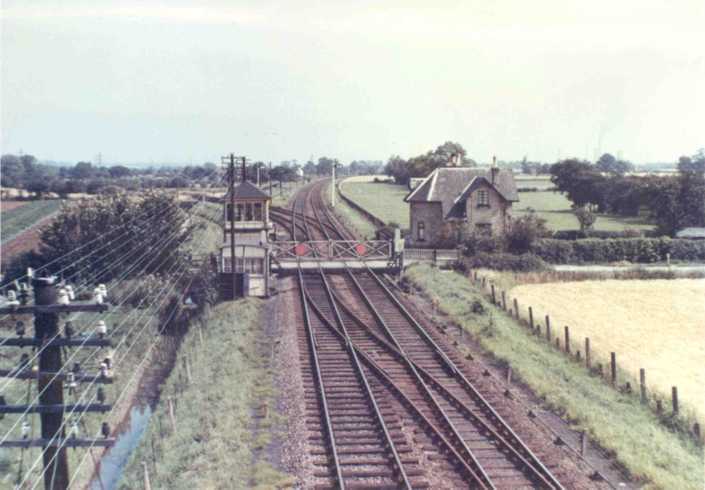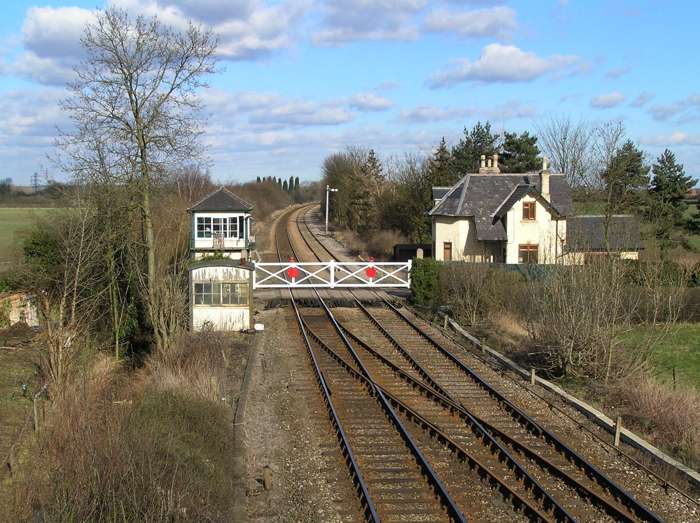 If you'd like to discuss matters specifically concerning subjects on this site, please contact me. For more general signalling matters, I strongly urge you to go to "The Signalbox".
You will, I'm sure, also be interested in The Midland Railway Society and The Signalling Record Society web sites.
There are a large number of local history photographs to browse and buy, including a lot of railway related subjects, on the Picture The Past web site - highly recommended.
For a good selection of signal box photos, with many Midland Railway examples, Dave Strickland's site is also well worth a look.
The Midland Railway - Butterley have, for many years, used the former Pye Bridge branch (including the sites of Butterley Jn., Butterley Station, Swanwick Jn., and Ironville Jn.) to recreate the unique aspects of Midland Railway signalling. During Summer 2012 their website is being refreshed. This will be a very useful resource for further information about MR signalling.
The Small Print: The majority of photographs used on this site are not mine. Wherever possible the original photographer is credited and the image is used with permission. Where I have been unable to seek such permission, I sincerely hope that the photographer will acknowledge that the images are used in an educational spirit and absolutely no financial gain is involved. To that end, visitors may not reproduce any image from this site - in the event you wish to do so, please contact me and I will try and put you in touch with the person whose consent you need. As far as the text on the site is concerned, that is almost all mine. Visitors are free to reuse any text or information they find on this site for any purpose. The only restriction is that I ask for an acknowledgement to www.derby-signalling.org.uk where applicable, and I absolutely insist on the courtesy of being informed of any such use if commercial gain is involved. Thank you.
---
Dave Harris, Willington, Derby, UK.
Email: dave@derby-signalling.org.uk
Site last updated: 05AUG2014
This site does not use cookies.